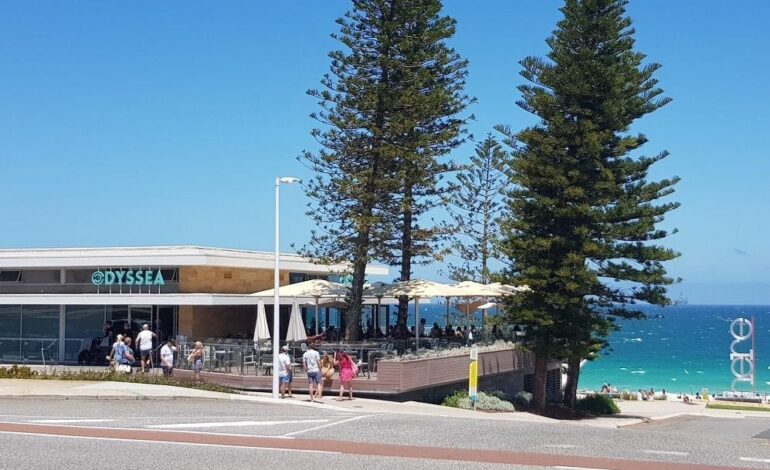 Being the sunniest city in Australia makes Perth an ideal place for seaside dining, boasting a number of must-try cafes and restaurants along its pristine beaches. Whether you choose to indulge in a slice of tasty culinary adventure, or simply take a moment to enjoy some much-needed downtime with your feet in the sand, these Perth restaurants offer the best of both. 
Odyssea City Beach Restaurant
Locals and visitors alike flock towards Odyssea for its picturesque, 180-degree seaside views, undeniable reputation and dedicated staff, who truly go above and beyond to give you a great dining experience. Their commitment to supporting the community means that ingredients are locally sourced and produced, maintaining a strong focus on sustainability and seasonality.
Odyssea is both family and pet-friendly, offering you the chance to share some of life's best moments with the ones you love, without anyone having to be left behind. This makes it the perfect seaside dining spot to go to with your family or four-legged friends, before or after a relaxing beach walk, paddle or swim.
Feeling a little chilly from the morning waves? Grab a cup of freshly brewed coffee to warm you back up! Dehydrated from a salty surf? Refresh and replenish with a raw, cold-pressed juice! Or, allow your tastebuds to wine and dine you into a sunset-lit evening, taking you on a wine-tasting journey across Europe, finishing with your local favourites.
Their worldwide knowledge of cuisine is showcased once more in their food menu, with ingredients like chorizo, wagyu beef, gochujang and fettuccine. Vegans, vegetarians and children all have their own dedicated food menus, so nobody has to feel left out. They also mark nut allergies, as well as offer gluten-free options.
Il Lido Italian Canteen
If you'd like to experience the perfect marriage between Perth's seaside beauty and delicious, Italian-inspired cuisine, look no further than the Il Lido Italian Canteen. Appropriately named, "Il Lido" actually means "the beach" in Italian, and you don't have to look far to see why. What truly sets this dining spot apart is its menu, which showcases meals from all over Italy, each paired with a recommended wine – Buon appetito!
Culture and art enthusiasts will be delighted to know that the canteen was once a cabaret hall in the 1930s, and still boasts much of its art-deco spirit today. The ambience itself is relaxing and down to earth, welcoming people from all walks of life who love and appreciate good food.
For the early risers, they also serve locally brewed espresso, freshly squeezed juice, specialty teas and daily breakfast. Sundays at the Canteen are dedicated to celebrating and immersing oneself in the art of fresh oyster shucking, with special guest and Oyster King, Jerry Fraser.
Bib and Tucker Restaurant
Pizza lovers will be happy to know that Bib and Tucker offer some of the most mouth-watering pizzas in Perth – while including the vegan and gluten-free folk, of course. All the food on the menu is made with fresh, locally sourced ingredients which arrive daily. A mix of wood-firing, pickling and smoking techniques is used to deepen and diversify the flavour profiles of their dishes. At Bib and Tucker, even the ice cream and sorbet are homemade,
A comfortable seaside seat at Bib and Tucker also gets you breathtaking views of the Indian Ocean, situated on top of the North Fremantle Surfers Club. If you're looking to socialise, gather your friends to sit back, relax, and experience their curated menu for twelve or more. Be sure to keep your eye on their events calendar, too, as Bib and Tucker also hosts events from time to time, like beer and wine master classes on the restaurant balcony!
Monty's Cafe
Monty's Cafe is another fantastic spot, especially for those who are health conscious and love a good variety – including vegan and gluten-free options. Situated on The Esplanade, across the road from Scarborough's sandy shoreline, Monty's offers beachgoers the chance to grab a delicious, healthy bite, soak up some rays, and dine with a view of the water.
If you're after a beverage, Monty's offers teas, coffees and specialty lattes, along with smoothies and cold-pressed juices. It's hard to say no to all-day breakfast and even harder when you're choosing between healthy breakfast bowls, French toast, breakfast stacks and good old eggs benny. For those who are on the hunt for brunch, there's a variety of salads, burgers and even a delicious nasi-goreng!
Monty's is also kid-friendly, with options that will be sure to keep them happy, occupied and included. With plenty of charming indoor and outdoor seating, coupled with the seaside view, it's hard to go past a spot as good as Monty's – especially when it comes with such a great menu.